Okay, so for the last several days, any and all of my spare time has been going into this project. We got this hutch out of my grandparent's house (there's been a trend here lately of finding things over there!) and my mom told me it was my great-grandmother's (our daughter's namesake).
When I saw what great condition it was in, I couldn't pass it up. My mom was just going to either sell it or donate it. WHAAAAT?!?!
The details are beautiful! It has four doors on top, two with glass, and two with wire backed with plexiglass. Then there are two doors down below on either, hiding shelves, and three drawers in the center.
I immediately loved the lines and the details. The curves of the wood...the etching...just beautiful!!
And the HARDWARE!!! Ohhhhhhhh....LOVE LOVE LOVE!!!
So, with all this beauty, I'm guessing people are wondering why on earth it would even NEED a makeover. I suppose technically I could have just wiped it down and brought it in the house....
....BUT....
...that's not what happened. LOL
See, the thing is...the color of wood just wasn't going to be a good fit in our house. At first, I wanted to paint it white. Then, I changed my mind and thought I'd paint it black. THEN, I thought if I painted it black, I'd surely paint the INSIDE white so whatever I had in it would pop. My mind changed AGAIN when I started thinking maybe I'd paint it a COLOR - you know, really make it a WOW piece! But, I couldn't decide on a color, so I came full circle back to white. White....with an unexpected surprise....
...and after much sanding, painting (ohhh, the coats of paint), distressing, and surprising...
...here's what we've got so far!!
It's all done, minus the top doors!! I'm completely and totally in love! It turned out SOOO much better than I had even imagined!!
Look at these DRAWERS?!?! The curves...the hardware...the distressing...
My heart just goes pitter pat when I see the pictures. I'm like a purring kitten - total contentment!!
And the surprise was lining the inside of the back with paper. I found this paper at Hobby Lobby. It was in the gift wrap section, but this is a very thick wrapping paper. As soon as I saw it, I knew it was THE paper for this project!!
Here she is inside. Right now, since the top doors aren't done, I'm pretty much just using it for display. But, it will serve as a more functional piece once the doors are on. I have plans for vases, china, serving pieces, and cook books to live in here. My mom was here as I started tossing things on top to decorate it and make it look extra purdy. The little black suitcase was also my great-grandmother's and my mom thinks it was her 'train case' that she carried her make-up in when they traveled. Neat, right?!?!
I've even got my grandmother's old Better Homes and Garden's cookbook in there, with her notes and writing by certain favorite recipes.
And that's what I'VE been working on!! I really couldn't be happier! I still need to finish those top doors, but for now, I'm going to enjoy it as-is. I hope my great-grandmother is looking down from heaven with a smile on her face, saying, "Atta girl!!"
**HOLY COW!! Featured at:**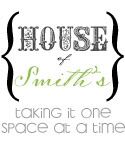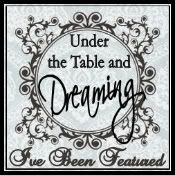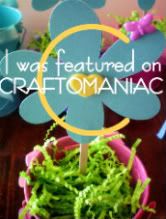 and
**Linking up to the following:**